10(ISH) MOBILE USAGE STATISTICS AND HOW THEY AFFECT AUTO DEALERS
Since 2010, smart phones and tablets have nearly doubled the time we spend online. Chances are, a number of you are reading this article on your phone or tablet. Recent studies also show that at least 1.3% of you are reading this on your mobile device . . . while in the bathroom.

With the internet becoming integrated into not only our professional lives but also our personal lives, it has quickly become apparent that consumers are veering away from traditional marketing and looking more and more to online sources to research, make purchases, find services, and search for cute cat pictures. That's why having a cross-platform web presence is now at the top of the priority list for any dealership.
So what does this mean to you and your website? First let's look at the stats.
1) Over 800,000 new smart phones are being activated every day. No other personal device can boast such overwhelming growth on a daily basis.
2) Mobile internet is growing faster than desktop internet ever did. It took desktop internet almost 20 years to become a common household norm. It took mobile internet just over 2 years.
3) There are over 1.2 billion people accessing the web from their mobile devices at any given time. Over 78% of North Americans use their phones to shop for vehicles.
4) Mobile data traffic is expected to increase at a rate of 1000% per year. The increase is due to more and more websites becoming optimized for mobile devices.
5) North Americans spend an average of over 2 hours per day on their phones . . . excluding phone calls.
6) 88% of people agree that having a mobile device with real-time information makes them more spontaneous with shopping and, in general, more open to discovering new things.
These stats beg the question: Is your website optimized for a mobile device? And if not, why not? Still need more convincing? How about this . . .
1) The majority of people (over 50%) research online before visiting a storefront/dealership to purchase.
2) 57% of users say they won't recommend a business with a poorly designed mobile site.
3) The strategic importance of mobile optimization for a business website is recognized by 72% of mobile e-business and marketing executives.
4) The internet is the number one, most influential source for consumers looking to purchase a new or used car. It ranks exponentially higher than referrals, prior experience with the dealership, and all other traditional marketing efforts combined.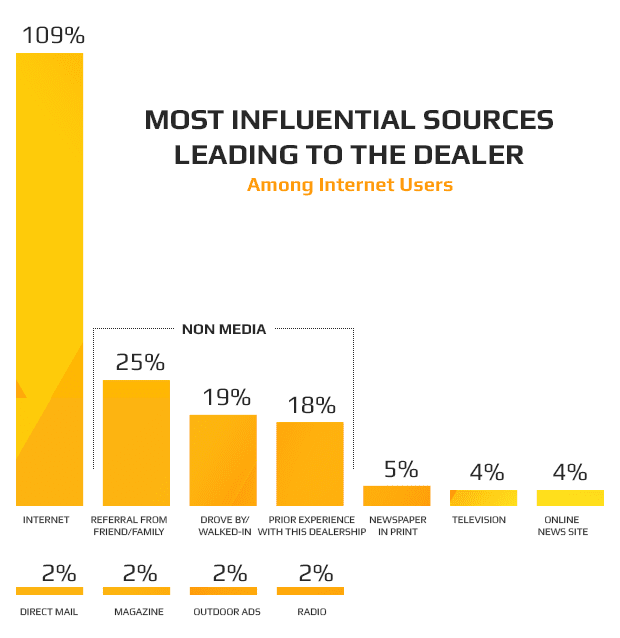 Consumers are looking to the internet and their mobile devices for answers. As a dealership, you need to be aware of the impact your online presence has and leverage it for maximum efficiency. Your mobile website isn't just a 'nice extra feature', it's a necessity. To that end it needs to be relevant, interactive, appealing, and easy to use.
Now that you're sufficiently worried about the state of your mobile website, we're going to help you. Look for the next DealerXchange blogpost, How to Optimize Your Website for Mobile Devices and Why It's a Fantastic Idea,coming soon!
*Statistical data sourced from 2013-2014 reports by Google, Latitude, Nielsen, Trinity Digital Marketing, and Forrester.